Does Facebook's new algorithm mean death for companies and news media? How can your followers still see the posts from your Facebook page in their feed? Here is a guide from Hallkom.
Facebook's founder, Mark Zuckerberg, recently announced that changes are on the way for  Facebook's algorithm (what we see in our feed on Facebook). Users have spoken – there are too much news from media and companies in the feed. Facebook wants to focus again on what means something for us, the users, namely family and friends.
There are several articles about the topic and about what this may mean for companies, buying Facebook ads. Will they need to spend more money on ads in the future? Personally, I think yes. But companies can also help their users to continue seeing what they post on their pages.
This is how you guide your users to continue seing the posts from your page in their feed…
Please note, that the screen shots used in this guide are Danish. Therefore, I am not 100% sure of what the English translations of the options are. If someone can guide me (even perhaps send me screen shots in English to info@hallkom.dk, I am happy to update the article accordingly with English screen shots).
Your users can use this guide both for updates from their friends and/or see posts from pages, they wish to follow.
Login to your profile
Click on the little triangle upper right hand corner (next to the question mark)

A drop-down menu opens – choose "Preferences for News". In Danish, this is the third option from the bottom, right above "Settings".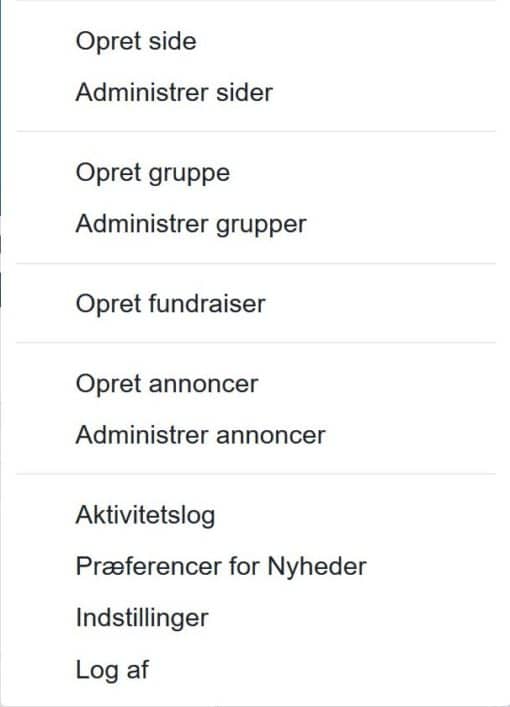 Then, the below box opens. Click on "Prioritize who you want to see first".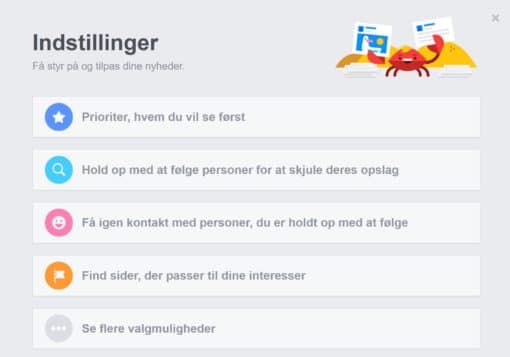 Where it says "all" you now choose "Only pages" or "Only friends" depending on what you would like to prioritize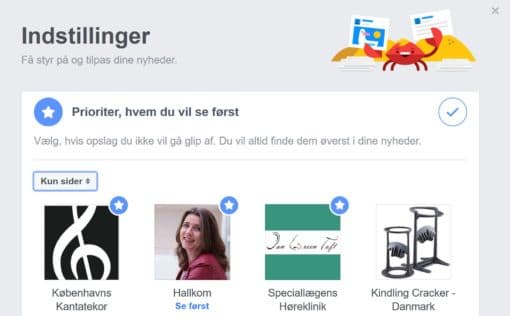 If you choose "Only Pages" you get a list of all the pages you have liked and chosen to follow. If something is close to your heart, you can click these and thus, you will see what they post first in your feed.
When you have chosen a page, it will be marked with a blue star.
Now you can either scroll down and mark other pages, or you can close this dialogue on the X in the top right hand corner.
At any time, you can choose to follow this guide and change your preferences again.
Then you can do the same thing with your friends – meaning you can choose from which friends you would like to see news and updates in your feed.
Do link to this Facebook guide, but please remember…
It's ok to link to this guide and share it with others, but please remember to reference where you got it from (in other words, please link to my site).
I hope it was useful. Thank you and kind regards
Anette Hallstrøm | Hallkom | Klar Kommunikation
Foto credits:
Pixabay, Creative Commons
Screenshots from my private Facebook-profile